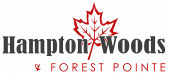 Neighborhood & Directions
Hampton Woods is just 2 miles from the University of Oklahoma, perfect for students looking to be off-campus away from the hustle and bustle. Grab your books and head to the Bizzell Memorial Library, about a 10-minute drive away near the heart of campus. Grab a seat for some Sooners football at The Gaylord Family Oklahoma Memorial Stadium, less than a 10-minute drive away. Cheer on your basketball teams at the Lloyd Noble Center about 2 miles away. Hampton Woods provides residents with a convenient off-campus location.

Residents will also enjoy being located in the heart of Norman, as it provides them with easy access to the surrounding community. Enjoy basking in the beauty of mother nature just down the road at the Oliver Wildlife Preserve. Grab dinner after class at one of the many restaurants near campus like O'Connell's Irish Pub & Grill, Kendalls, or Diamond Dawgs. There are also plenty of ways to satisfy your sweet tooth in Norman, head to Hurts Donuts to grab a sweet snack or cool down with an ice cream sandwich from The Baked Bar. Discover more about the community surrounding Hampton Woods below.